"Small Batch"
Solid American Hardwood Furniture
"Small Batch"
Solid American Hardwood Furniture
Nutmeg Table Company:
Solid Hardwood Tables & Kitchen Islands
Welcome to Nutmeg Table Company, makers of heirloom quality tables and kitchens islands, made from solid American hardwoods.
Peggy
Client
Our REMY dining table in the Seawashed finish is beautiful! I ordered a custom size and the seller was very accommodating. Shipping was slated for November 14 - 21, and it arrived on the 15th in the morning. Shipping partner was easy to work with. Assembly was much easier than I anticipated. The only thing I could not do myself was lift the table top. I had my husband and two teenage boys, but could be done with two strong adults. If you're on the fence about getting this table, or anything from this seller, take the plunge. It's worth it!
Sunita
Client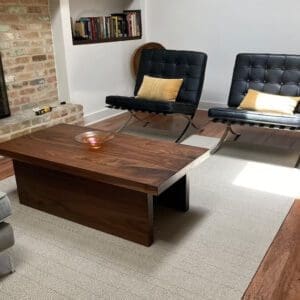 We just received our coffee table today! From purchasing, working with Steve on what we wanted, and delivery, everything was remarkable. The table was carefully packed and easy to put together. We love it so much and the table makes our living room complete. I know this piece of furniture will get passed down. Thank you!!!!
Lisa
Client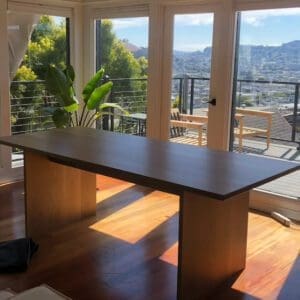 Steve was great and super helpful throughout the whole process. He helped me think through the right dimensions for my space and dining chairs, answered any questions I had about stain and the wood quality, and was super helpful when it came to shipping and setup logistics. Also, the table is just really beautiful! Cannot recommend enough.
Cassie
Client
This has been one of the best purchases of our kitchen remodel! The shop was great with communication and made the benches to our measurements, raising them to be counter height and adding a foot rail for comfort. They are GORGEOUS and super comfortable for kids and adults alike! We are so pleased!!
Diane
Client
This is why I love Etsy. How else could I have met an artisan like Steve to make such a beautiful, custom piece that I can truly call my own. The walnut is smooth, solid, very high quality. Now I have bragging rights - "I got it custom made." *Note* If you live in an apartment/condo/townhouse, have 2 strong individuals ready to bring this huge shipping palette into your home (they just drop it off outside). And then, of course, you have to dispose of the palette. Other than that, could not be happier.
Helen
Client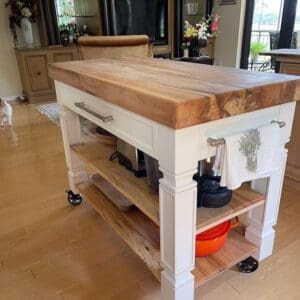 This butcher block cart is exactly what our home needed for extra storage and counter top work space. I was able to customise the turned legs and upgrade the drawer pulls and handles shown. It is beautifully made. Steve was excellent to work with and it arrived extremely well packaged.
Ryan
Client
This is my 3rd purchase from Steve and co at Nutmeg Table Company and this crew is just plain impressive. They're handling super intricate custom woodworking, doing a job as good as any high-end millworker, and shipping across the country for a super reasonable amount. Could not recommend this outfit more.
Julie
Client
I can't believe the incredible piece of furniture this is. Our contractor looked and it and said, "WOW?" It is both beautiful and functional. We use it as an island for more counter space and it also functions as a table when we roll it to our kitchen bench. The is the highest quality cart I've ever seen. The butcher block is three inches, it was painted a lovely black matte, the wheels lock in place and it has a nice, wide drawer where I can quickly store my day's mail until I can look through it. 10 stars! This company doesn't skimp on anything and the workmanship is stellar, very detail oriented. Thank you so much!
Amy
Client
The island is beautifully crafted and Steve was great with the customizations. We would highly recommend Nutmeg Table Company.
White Glove Service and Nationwide Freight Shipping
We offer an exclusive white glove service to our clients in lower New England and the NY Metro region, ensuring a seamless experience from our workshop to your home.
For regions outside of our white glove area, we offer freight shipping. Items are shipped flat-packed, making them easy to bring inside. There is some simple set-up required. We provide clear instructions and it generally takes 15 minutes or less.
We understand the importance of selecting the perfect finish for your furniture. That's why we offer five finish options, and we know it can be tough to choose just one! Head to our samples page to see the options.